Adobe Certified Training, Toronto Training Schedule
Offering Affordable Open Enrollment Hands On Instructor Led Public Classes and Onsite Private Group Training Across Canada*.
"Ushering in a New Adobe Course Pricing Structure for Toronto and Canada"
Beginning October 17, 2016:
One day classes: InDesign Basic, Photoshop Basic - $329 + hst
Two day classes: InDesign Essentials, Photoshop Essentials - $629 + hst
Three day class: InDesign Complete - $829 + hst
---
November 2016
Mon 31

Tues 1

Wed 2

Thurs 3

Fri 4

Mon 7

Tues 8

Wed 9

Thurs 10

Fri 11

Mon 14

Tues 15

Wed 16

Thurs 17

Fri 18

Custom Training

Custom Training

Mon 21

Tues 22

Wed 23

Thurs 24

Fri 25

Custom Training

Custom Training

Mon 28

Tues 29

Wed 30

Thurs 1

Fri 2
December 2016
January 2017
Mon2

Tues 3

Wed 4

Thurs 5

Fri 6

New Years Days

Mon 9

Tues 10

Wed 11

Thurs 12

Fri 13

Mon 16

Tues 17

Wed 18

Thurs 19

Fri 20

Mon 23

Tues 24

Wed 25

Thurs 26

Fri 27
February 2017
Mon 30

Tues 31

Wed 1

Thurs 2

Fri 3

Mon 6

Tues 7

Wed 8

Thurs 9

Fri 10

Mon 13

Tues 14

Wed 15

Thurs 16

Fri 17

Mon 20

Tues 21

Wed 22

Thurs 23

Fri 24

Family Day
March 2017
Mon 27

Tues 28

Wed 1

Thurs 2

Fri 3

Mon 6

Tues 7

Wed 8

Thurs 9

Fri 10

Mon 13

Tues 14

Wed 15

Thurs 16

Fri 17

Mon 20

Tues 21

Wed 22

Thurs 23

Fri 24

Mon 27

Tues 28

Wed 29

Thurs 30

Fri 31
e-mail
info@harperburnham.com
Call 1-877-246-3436
We Also Offer:
Instructor Led - Private Training Classes At Our Location or Onsite at Your Location for Corporate Groups
Private Training is provided mostly at our clients' location and public classes at our facilities in Toronto. Training dates are scheduled for full days (7.0 hours) chosen whenever it is mutually convenient. Training is usually hands-on, participants are led by the instructor though exercises on their own computer.
Curriculum customization by Certified Technical Trainer (CTT) specialists
Please note that we can customize the content of any course to best meet your training and business needs. We can also use your examples or projects as part of the training if you desire. The duration of a course may vary depending on the changes made to the content. We suggest that our clients consult our Course outlines and schedule a phone consultation with one of our Certifed Adobe Instructors.
Certified Adobe Instructors (ACI) and Certified Technical Trainers (CTT)
Our instructors are Certified Adobe Instructors and Certified Technical Trainers with years of training and business experience and recognized Adobe certifications. This is what sets us apart from the grey market trainers in the industry, those who try to train in Adobe products but have no formal certifications or professional training credentials.
Onsite Fees?
To obtain pricing please contact us at 1-905-436-9013. You may also view the outline of the course that interests you and complete and submit the PDF registration form by clicking on our Registration link.
Course Outlines
For software training, Harper Burnham and Associates provides training in the latest software version but we can also provide training in older versions as well. Please review our course outlines by going to our Courses page.
We provide Certified Adobe Instructor led training
Contact us at 1-905-436-9013 to obtain a quote for your Adobe Certified training needs or
Didn't find a training date that suits your needs?
Some of our courses are not scheduled on a regular basis. Please contact us to arrange a date for a class.
We provide flexibility. Consider our on-site instructor-led training as a solution. Harper Burnham & Associates can deliver just-in-time classes exclusive to your organization, at your site, to coincide with your project or staffing schedule.
For more information, contact a Harper Burnham & Associates Certified Trainers
at 1-905-436-9013.

Adobe Training Register
1-877-246-3436

Click to Follow Us for course news, discounts and tips and information
Adobe Training Schedule
Onsite Training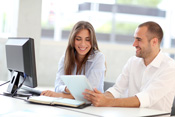 Adobe Training Request Onsite Quotation
Request Onsite Training Quotation
Canada Job Grants